Sydney Punjabi Sikh Wedding
If you know Alpana (the bride in the picture), she's a little bit of a rule-breaker – and I think that's pretty dam cool.
She's a bundle of fun to be around and has an energy that can light up rooms, but at the end of the day, if she wants something, she'll dam well try her best to get it.
I get asked this question a lot by future brides, "Hey Don, how should I have my wedding?".
For most brides, they're doing this for the first time, and everything can seem scary and you really want to go and find out what other people are doing and just really copy that to play it safe.
My piece of advice, scrap all that. Do what you want – Alpana is a great example.


She broke the 'normal rules' which really aren't normal. It's just normal because everyone is doing it. She did things that most brides would think about & she included things in her wedding that brides would love to have.
She mentioned to me how the family is really important to her, so on the day of her wedding, she wanted to do a first look to see her family first rather than going straight to the ceremony. So she set time aside to do it, and we set it up right beforehand so that you can see her family's reactions. These are priceless moments, that really can't be re-done (all those photos and reactions are listed below once you start scrolling!).
Dance is really important to Alpana, she met the love of her life through dance. She danced into her ceremony by having her own baarat. For all you that don't know what a baraat ceremony is, it's a massive celebration that happens when you welcome the groom (you can read more about it here).

It's normally a gender-oriented event because it's for males when they enter. Alpana didn't care, and she's wanted to do one – what you'll see below is her own baarat. I've shot weddings for years on end. This is the first time I've seen a bride do a baarat, and if your a bride contemplating having a baarat – don't contemplate it, just do it.
Alpana is not only is a talented baker and teacher but she's a lover of health and fitness. If you haven't seen her pre-wedding event (link is here). You'll see all of her baking skills put to work at her event. She is not only mentally strong but also physically strong. She's the type of girl, that would lift her partner up, and she definitely did that in the pictures (I've added a few).
I had a heap of fun capturing this fun-filled day. The energy was infectious, there was heaps of laughter and smiles and honestly, everyone had such a great time. Hope you guys love the photos as much as I loved creating them!
The photos below, pretty much explain Alpana in a nut-shell! Bubbly, charismatic and always down to have fun!
We then ducked out to a nearby park to grab some quick pictures!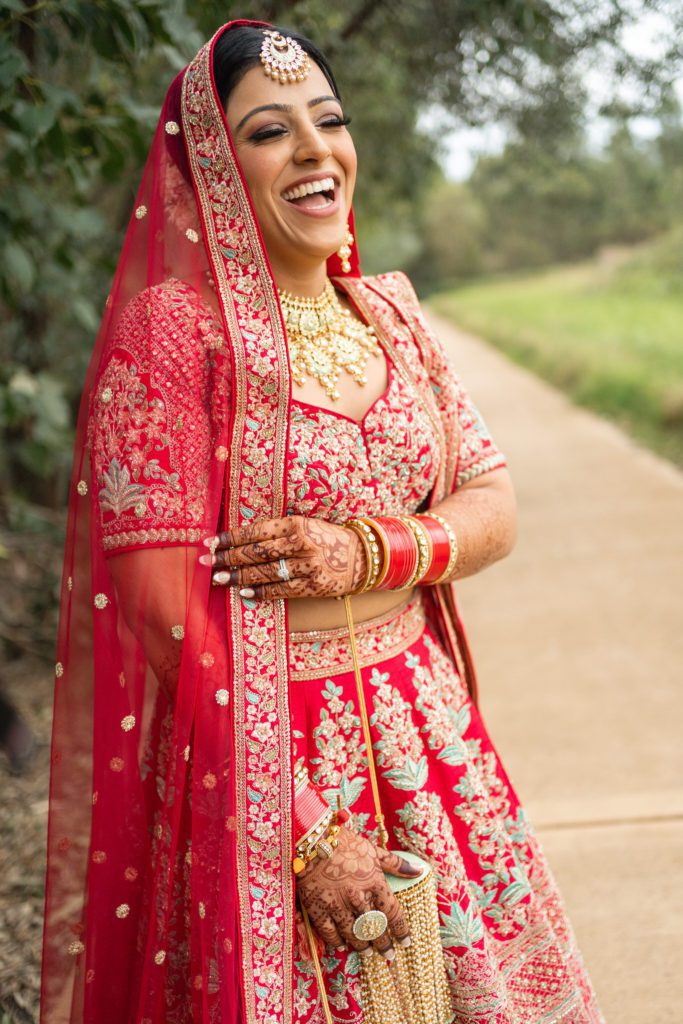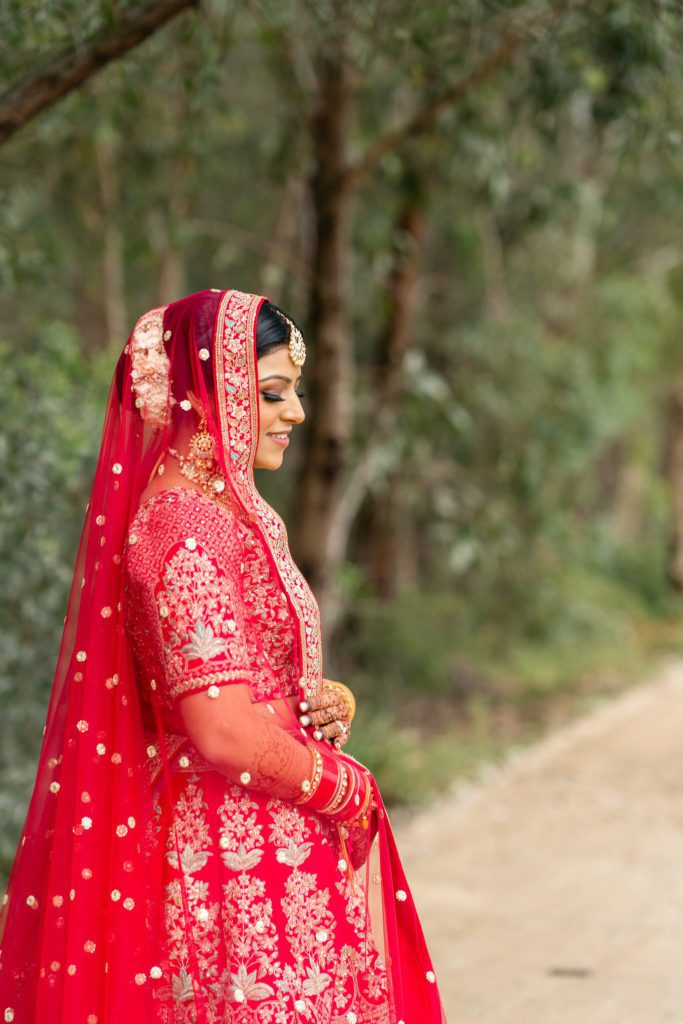 Then we drove back to Alpana's place to do a first-look! Pretty epic reactions!
When I see light like this, which really happens at the spur of the moment – I tend to let my brides know that we have to grab a picture here or there. The light just graciously creates this glow. Love creating pictures like this!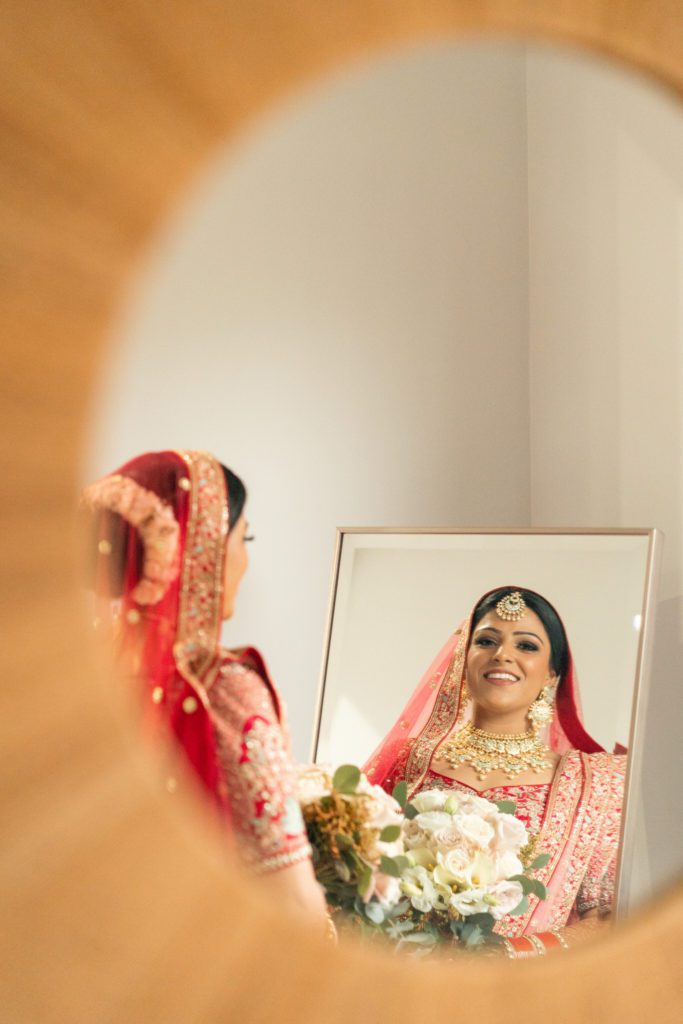 Then we grabbed some fun bridesmaids pictures
Meanwhile back at Manraj's Place, he started to get ready!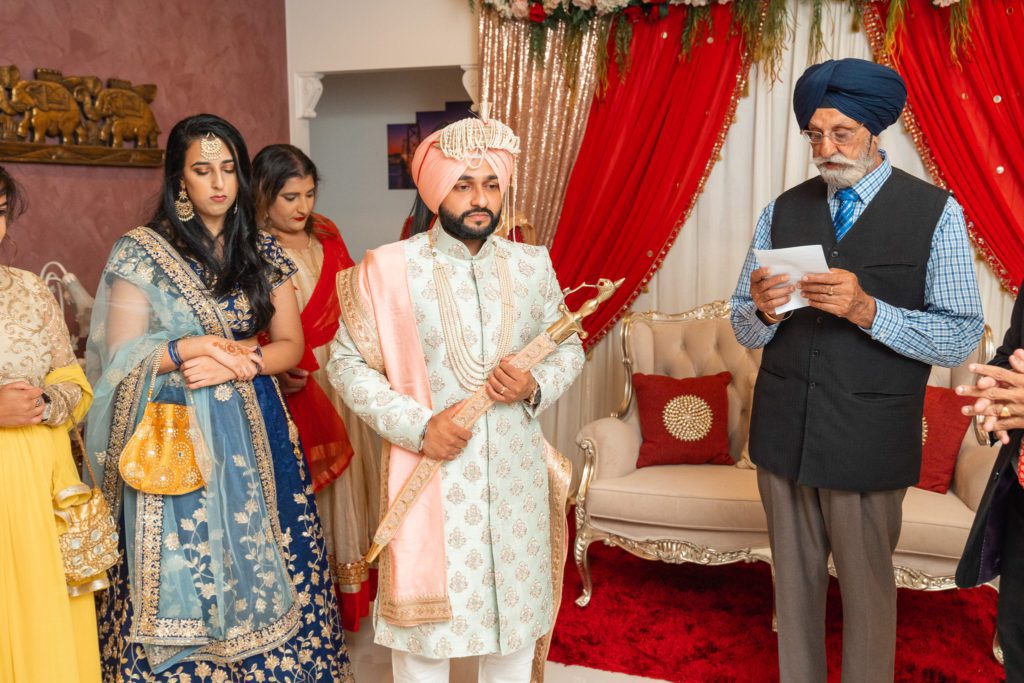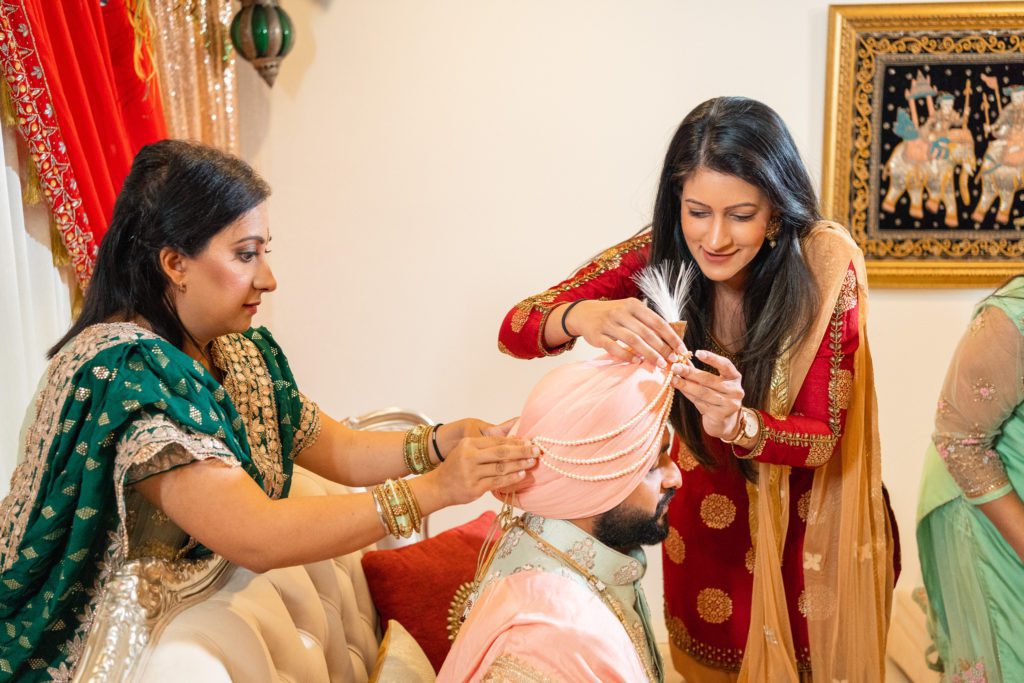 Scheduling a bit of time right before your ceremony really helps set the scene for your complete wedding album.
It shows the place that you're getting married and ties your whole story together. I can also be more artistic trying to find the right angles to shoot through of places to come from. I had to walk around the whole place before grabbing these!
This is Alpana's baarat ceremony! First time ever seeing this and it was super fun!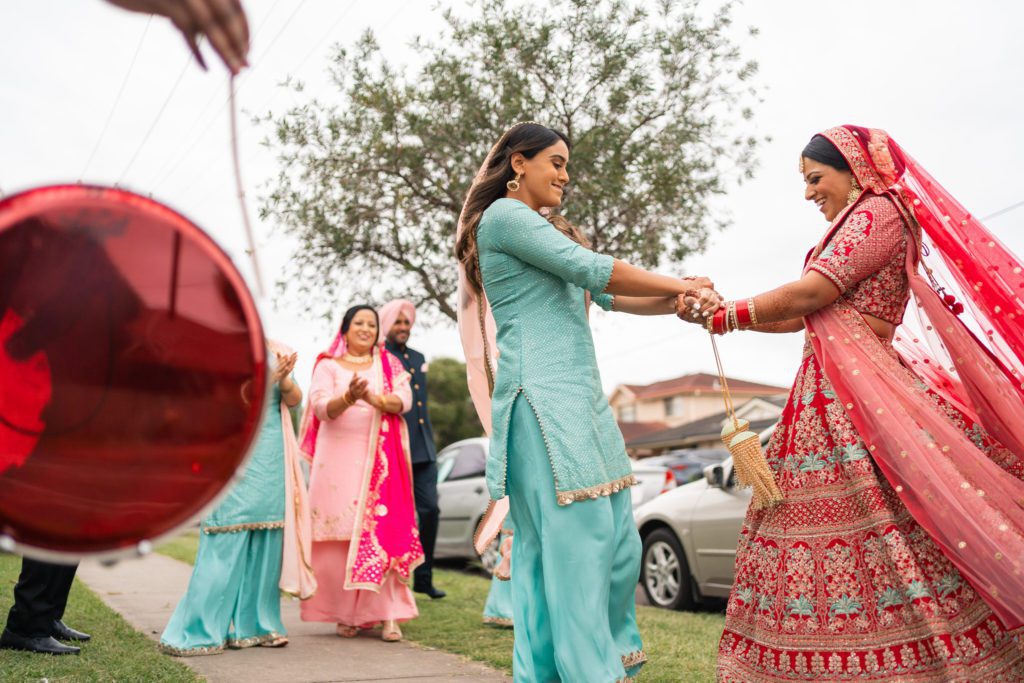 We then kicked off Manraj's Baarat Ceremony!
Nilesh whose the Dhol player absolutely killed it. Hiring the right Dhol can make or break your Baarat ceremony, they set the energy and can really emphasize it. I shot with Nilesh for more than a couple of years now – would definitely recommend him. You can check out his work here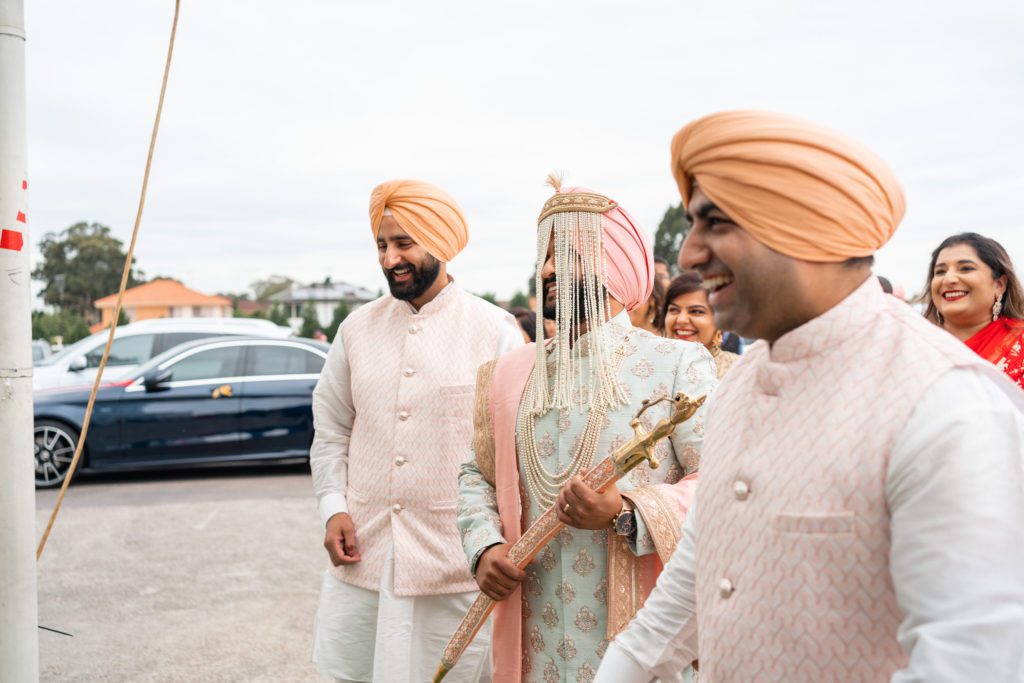 Milni Ceremony! It's the formal introduction of the key members of both families via the exchange of garlands and hugs!
Manraj then walked in!
Then the bridemaids
Finally, Alpana came in, with her family!
This was their first time seeing each other at the ceremony, nailed the reaction.
We then ducked out to Fagan Park for some fun pictures
then got more cute pictures of both Alpana and Manraj
Then Alpana lifted Manraj, with Manraj doing a lift as well after.
So this is a picture that really I don't see often.
Alpana's outfit if you can't tell weighs more than 8-10kgs. It's REALLY heavy. A lot of brides wearing similar outfits struggle to walk around because it's so heavy and there are pins all over holding things in. You have to do this for at least 6-12 hours on a wedding day.
Alpana did the complete opposite, she didn't complain at all and then proceeded to lift Manraj. What an absolute tank.
Vendors!
Bouquet: moonmagicfloret
Garlands: saigarlands
Lengha: Asiana Couture
Jewellery: Mahira Jewellers
Jutti: Needledust
HMUA: Sana
Mehndi: Arora_mehndi
Dhol: 2stixentertainment
Videography: Stuckinamoment
Want to check if we're available for your day?