Are you looking for a wedding venue in the Blue Mountains? Are you based in New South Wales and want to travel to the Blue Mountains to have your special occasion?
You're probably scrolling through looking to find the best spot, not to fear we have you covered!
The Blue Mountains is famous for its natural environment, i.e., peak air, grand landscapes of the mountains, and gardens. We, at Pannila Weddings, love to shoot weddings all across the Blue Mountains of New South Wales. We have been in this industry for more than a few years, and would highly recommend you take a look at some of the most beautiful wedding venues.
Before discussing the places, let's get understand a bit about the Blue Mountains. It is a World Heritage Area of mountains, valleys, and bushland outside Sydney, Australia. It is known for its 'blue' environment due to the oils released from the excess eucalyptus trees encountered during the landscape. The scenery is beautiful and dramatic, with several views, bush walks, vantage points, waterfalls, hiking, and areas of beauty all inside the wider Blue Mountains National Park. We have listed out some of the best places where you can treat the special day of your life.
Top Wedding Venues In The Blue Mountains
1. Chapel Hill Retreat
Chapel Hill Retreat is situated on 35 acres, and the site is surrounded by tranquil bushes and overlooks the lofty blue mountains. This wedding venue is the top choice of people and has fulfilled many people's wish of having a dream wedding. Along with proffering a luxurious ceremony room, Chapel Hill has a wide variety of areas available to host your ceremony. So, there's no requirement to travel anywhere else in search of your wedding venue. And, with comforts available internally for up to 24 guests, there are different types of ceremony places and ritual areas to select. The most impressive thing concerning Chapel Hill is that you can spend a whole day or a weekend in one spot without going anywhere else. For more information, you can visit their website: Chapel Hill.
2. Seclusions Blue Mountains
For those who dream of having a ceremony in the Blue Mountains, Seclusions is a charming and romantic venue that is perfect for making their wedding dreams come true. Along with impeccable hospitality, the venue is all-inclusive that means you can treat both your reception and wedding ceremony all in one place. Also, you as a couple are involved in setting up decision-making and decorating that proffers a wedding actually your own as you desire. For more information, check out the website: Seclusions Blue Mountains.
3. Waldara Farm
Another option for hosting a wedding ceremony in the Blue Mountains is Waldara Farm. It is one of the perfect places for a wedding ceremony. Located just before the Blue Mountains, this venue is ideal for a rustic wedding aside from the bustle and hustle of Sydney's CBD. Waldara gives couples an exclusive way to host their wedding ceremony as it allows them to rest and rejoice in the countryside without bothering about anything. To know more about Waldara, we recommend taking a glance at their website: Waldara Farm.
4. Parklands Country Garden and Lodges
Parklands Country Garden and Lodges are located on 28 acres of manicured grounds, and it is a preference among those desiring to tie the knot in the Blue Mountains. The venue permits couples to host their photoshoot, ceremony, and reception all in one great location so that you and your guests don't have to rush between venues on the special day of your life. Also, with luxury rooms available on site, there's lots of reason to get the weekend out of your wedlock at Parklands Country Garden and Lodge. To get more information, we recommend visiting their website: Parklands Country Garden and Lodge.
5. The Old Farm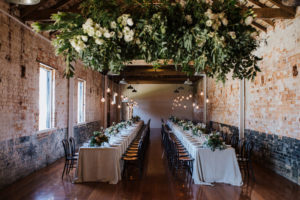 The Old Farm is another great option if you are looking for a beautiful Blue Mountains wedding venue. The venue grants endless photography opportunities to the couple, including a wisteria walk, several ponds with water features, an abundance of flora and fauna, a dam, and a pier. Old Farm's function room caters to 90 to 100 guests, so this place is perfect for those with a small guest list.
6. Dennarque Estate
Dennarque Estate could be everything you are looking for in a wedding venue. Situated in the heritage garden village of mount Wilson, this landmark is the perfect venue for a wedding aside from the bustle and hustle of Sydney's CBD. Whatever you envision for your big day is, the dedicated team of Dennarque Estate will make sure all your wedding fantasies come true. For more information, check out the website: Dennarque Estate.
7. WILDENSTEIN Gardens
Mount Wilson's Wildenstein Estate is ready for your boutique garden wedding. This Blue Mountains wedding venue is set on twelve and a half acres of immaculately maintained gardens. Whether you decide to book your reception on the balcony or in the garden, this estate provides all the options for your special day booking. Wildenstein will give the perfect background for your fantasy wedding photos.
8. Waldorf Leura Gardens Resort
Waldorf Leura Garden Resort is the ideal venue for those designing a wedding in the garden or the open air. It gives a choice of three reception rooms like The Oliver Tree Restaurant, The Gazebo, and The Jasmine Restaurant & Bar. You can easily accommodate around 160 guests based on the room you prefer. You will get excellent service here as the crew of this venue is fantastic.
9. ALLVIEW ESCAPE
The first and foremost blossom of the gate with a blow is always the amazing Allview escape. With ideally maintained gardens and awesome scenes of the Grosse Valley, it's no astonishment why weddings are so special here. It's a private and secluded spot atop the cliffs and away from all the hustle and bustle. Your bridal party can book the entire property, which includes fully self-contained leisure cottages that can provide up to 25 guests. This Blue Mountains wedding venue will surely leave a permanent impact on your guests. For more information, you can visit their website: ALLVIEW ESCAPE.
What is the right season for a Blue Mountain wedding?
Most of the years, the Blue Mountains are diligent with sightseers. Though, the wedlock season in Australia is usually from September to May, along with a scanty drop amid December and January, as temperatures can seize up to 29 °C.
Several couples choose to get married somewhere between February to May and September to November because, at that time, the weather isn't too hot. However, if you're feeling mainly courageous, you can even possess winter marriage, implying that some places are more reasonable.
Wedding in the Blue Mountains Is The Right for You
The Blue Mountains are the most beautiful backdrops in all of Australia. It is iconic and expansive that the Blue Mountains are one of the best New South Wales National Parks and are located around an hour's journey from Sydney. Wedding venues in the Blue Mountains have the advantage of beautiful scenery and proximity to Sydney, which means it won't take you long to visit this incredible national park.
If you are the kind of couple who are obsessed with the stunning Australian mountains, the Blue Mountains are the ideal destination for you.